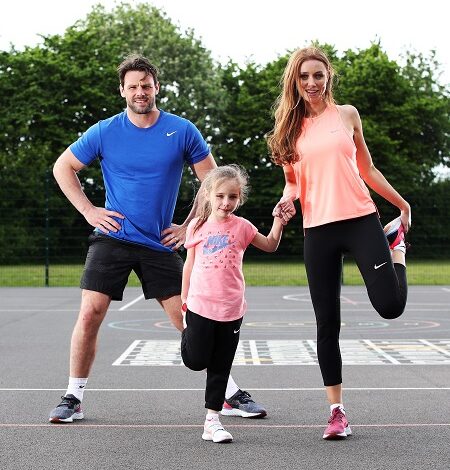 Parents said that lack of time, and because children were too distracted, are main reasons why they gave up on keeping fit, with many not knowing how to exercise with their children.
As a consequence, parents gain on average 1.5 stone after having children.
Now gym operator and sports retailer DW Fitness First has devised an exercise plan specifically aimed at helping time poor parents combine workouts with their everyday routine, turning the school run into an enjoyable family training session.
Built around a child's natural behaviour, it allows for their stop start movements and short attention spans providing parents with an easy solution to keeping active.
Drawn up by Tim Andrews, DW Sport's head of Gym Floor Experience, the new exercise plan aims to help parents work out around and with their children's routines, especially the school run.
It even includes exercises designed to deal with tantrums and distractions along the way – these indexing as the most significant reasons parents don't attempt family exercise. The workout plan is supported by behavioural research conducted by Stuart Biddle, Professor of Physical Activity and Health at University of Southern Queensland, showing we are more likely to continue a new habit if we enjoy the experience and have a physical plan in place.
Everyone knows that having kids impacts the money left in parent's pockets but new research reveals today that becoming a parent can have a negative impact on exercise routines, with only one in four parents revealing they have time to get to the gym and work out. Of 1,000 parents, over 80 per cent of parents find they have lost between one to five hours per week off their exercise regime since having children.
The research commissioned by DW Fitness First, confirmed that over a third of parents would like to start exercising with their kids (39 per cent) and discovered that less than one third of families currently do exercise together (27 per cent). More than two thirds of parents claim to have put on weight after having children (74 per cent), with almost half of parents sharing they have put on up to 1.5 stone (47 per cent). Just seven per cent of parents said having kids has not affected their weight.
However, when questioned about family fitness parents revealed that they see marked benefits when their kids exercise with them as a family – a lack of sibling fights (23 per cent), happier temperament (57 per cent), better behaviour (30 per cent) and better sleep at night (62 per cent). Over 70 per cent of parents shared that they found they bonded better with their children when exercising together.
To help get kids and parents active together, DW Fitness First have today launched a campaign The School Run, encouraging parents to get active with their kids and run their route to school for the nationwide School Run Week (from Monday 25th June), as a way to promote family fitness. Helmed by famous family Una and Ben Foden, the brand has also launched a new family fitness guide, with a selection of exercise routines designed to keep kids entertained and get the whole family moving in sync.
The School Run campaign and exercise plan compliments DW Fitness First's vision to create an active nation and provides encouragement to both sporty parents and those just looking to move a little more. Aiming to create an ecosystem of exercise, DW Fitness First is now the official retail and fitness partner of the 4 athletics and running Home Nations (England Athletics, Scottish Athletics, NI Athletics and Welsh Athletics). With the primary focus of running, DW Fitness First is working with top running athletes and has become the lead partner of RunTogether, successfully motivating thousands of new and enthusiastic runners to join their local running group.
Lee Pinnington, DW Fitness First Marketing Director, said: "Juggling parenthood with keeping the whole family fit and healthy is tough. This survey shows that while parents want to stay fit, they find it difficult because of the demands of having children. In reality parents often spend significantly less time exercising after having children and that can also lead to them putting on weight.
"We are delighted to team up with the UK's 4 National Governing Bodies of athletics and running to motivate parents get back on track, we want to support them on their exercise journey.
"Families that run together, stay fit together."
Tim Andrew's said: "Children are wonderful but they cause havoc on your workout routine. I have kids and I know how hard it is. We have devised this fitness regime to help and hope it can contribute to keeping the nation fit and healthy. The school run is just one example of where you can fit in exercise. There are lots of other activities with your kids where you could squeeze in a little workout that benefits both you and them."
Ben Foden said: "Even as a rugby player, you notice how hard it is to maintain an exercise regime when you become a parent. It must be incredibly difficult when exercise is not part and parcel of your job.
"Una and I find it challenging to exercise as a family, but we still believe there is a way to do it, and it is definitely worth it. This workout has really helped us fit exercise around our daily lives with Aoife and Tadhg."
"It's great that DW Fitness First and the UK's 4 National Governing Bodies of Athletics and Running have teamed up together to help busy parents incorporate exercise into their lives. During School Week parents and children can join us to run their School Run.
"Alternatively, parents can download our free family workout to have a go at home."