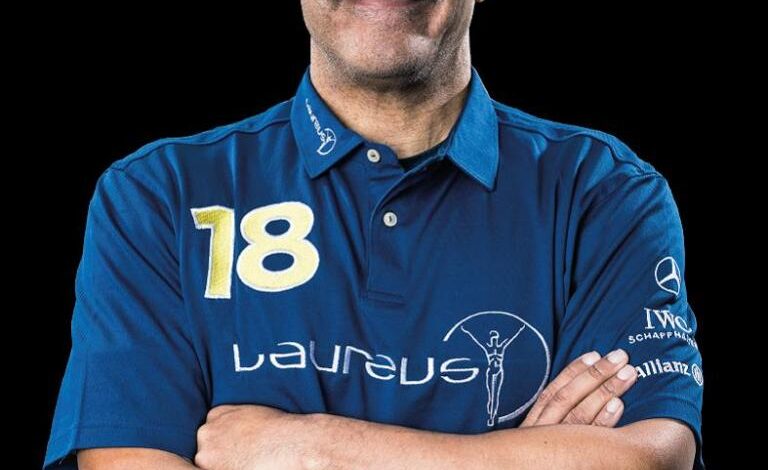 It's one thing for an athlete to perform to the highest standards in any single discipline, let alone a decathlon. Mere participation in the two-daylong ten-strong event is viewed by the majority as an improbable goal, which makes Daley Thompson's back catalogue of four world records, two Olympic golds, three Commonwealth titles, and a World and European title to boot, even more outstanding.
Not for nothing, then, is Thompson widely considered one of the greatest athletes this country has ever produced – not to mention his rivalry with West German counterpart Jurgen Hingsen throughout the 80s when the pair traded world titles, spurring Thompson onto an incredible nine-year undefeated streak. "The only reason I was training 350 days a year was because of the rivalry with Jurgen," Thompson, now 60, says. "I wouldn't have done it without him. I'm grateful that he was there, and he was so good. I think that's one of the things people like in sports, those rivalries."
Having retired from track and field in 1992, Thompson is no less ready to enjoy, if not a sporting, than a "healthy and fairly fit" life as he moves into his sixties.
"I exercise most days; I cycle, I row, I do circuits and try not to lift too many weights – maybe a few," he explains. "I'm pretty old-school. I'm all about the sweat. But you don't put yourself in the position of saying, 'I could do this when I was 25 – can I do this now I'm 60?' That would be stupid."
He's even been helping others meet their fitness goals. Since 2015, Thompson has been the figurehead of Daley Fitness, a London-based gym, and has been known to organise spontaneous events around the capital where fans can find themselves getting exercise alongside a bona fide Olympic legend.
"The pop-up gym I did on the Southbank, it was really good fun, we had groups of twenty strangers just turning up and coming to do some exercise," he nods. "It was something that I actually wouldn't mind taking around the country – it was just a really good vibe to see people that are interested in exercise and don't get the opportunity to do it outside and do it with a load of strangers!"
"For most people it was kind of a spur of the moment thing to do – and we tried to make the exercise as much fun as we could because we want people to come back or take it up."
Even so, after nearly a decade and a half at the top of his game – not to mention the world's decathlon rankings – surely some aspects of retirement proved a struggle for Thompson? "It was hard, because I'd done no preparation," he admits. "You're only 30-odd years old, and then there comes a day when you're not able to do the thing you love the most and the thing you've been doing for the past 15, 18 years. Listen, I think again that everybody is different, and some people can't wait to retire, but I wasn't one of those."
It's not unlike Thompson to be as upfront about his lack of retirement prep as he is. After all, amidst the gold medals and the glory, the Notting Hill-native was a law unto himself. His antiestablishment and individualistic persona usually won him the backing of the British public (bar a couple of outspoken transgressions). He's typically straightforward, therefore, in his assessment of his time as a decathlete – "hurdles and discus were the things I weren't as good as I could have been, or should have been" – as well as the modern track and field landscape in general.
"I think it's in an OK place," he shrugs. "I don't think it's hitting the sweet spot like it used to and there's still a lot to be done. I would like to know more about the people involved. You'd like to know more about the competitors, they don't seem to let you know much about them as people.
That's another thing fans usually gravitate towards."
And with this self-opined loss of individual characters, Thompson also thinks that athletics is in sore need of a new crop of talent going toe-to-toe on the global stage a la his running battle with Hingsen.
"I can't think of many events in athletics these days where there's a big rivalry," he agrees. "I think in order to have a rivalry you both have to be pretty equal really otherwise it's just all talk. There are proper rivalries and then there are paper rivalries. We don't have any more Coes and Crams, do we?"
Perhaps the era of towering athletic personalities has passed, but it's been just a mere three years since Thompson's own discipline took the spotlight briefly with France's Kevin Mayer setting a new Decathlon World Record in Talence. There's no room for overt nostalgia here, however, not even for a four-time participant on that hallowed list: "It was great to see the event getting some headlines," Thompson admits, "and moving on."
And there, again, is that sense that Thompson, for all of his ontrack feats of human endurance, will always stand apart from the crowd.
"The thing I'm most proud of?" he smiles. "Is having five grandkids. The sport stuff is just your job isn't it?"